KUGOO provides a reliable warranty that is processed in the most hassle-free way possible. Please refer to the chart below for the warranty timelines of various products, as warranty periods differ according to models.
Each dealer is under contractual obligation to offer a warranty certificate. If your KUGOO product has a warranty related issue, you must retain the original purchase receipt, your Limited Warranty, and eligible warranty claims to verify your warranty eligibility.
After Sales Service - Europe Center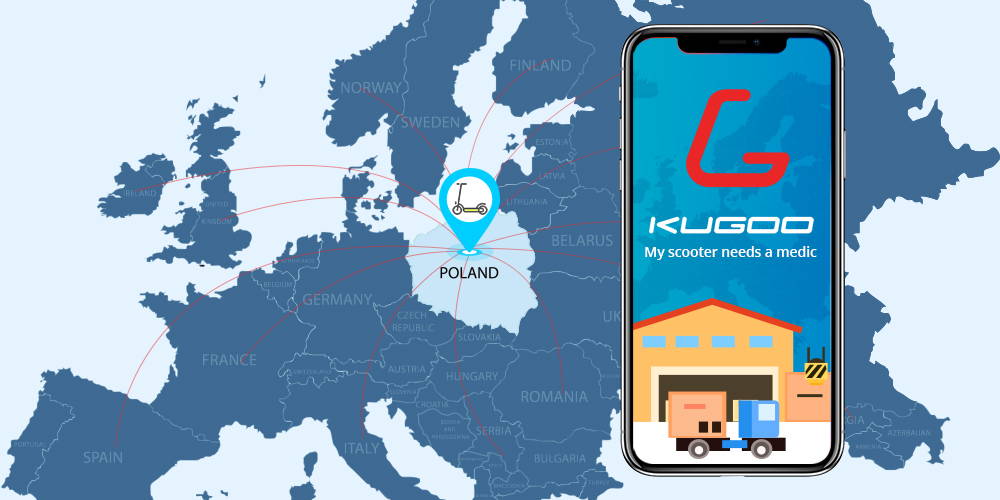 Warranty Claims for Quality-Related Issues
All quality-related defects on items sold directly by KUGOO or KUGOO's authorized resellers are covered by an extensive warranty, starting from the date of purchase (see top of page for your product's warranty timeline). 
Once you received the product and find quality issue, please let us know within 3 days for the full amount will be refunded when our company receives and confirms it. If more then 3 days, we will deal with it as normal quality issue. The time is calculated based on the actual logistics information delivery as 3 working days.
Process: 
● Buyer must provide sufficient proof of purchase. 
● KUGOO must document what happens when buyers troubleshoot the product.
● The defective item's serial number and/or visible proof depicting the defect are required.
● It may be necessary to return an item for quality inspection.
● For defective items that KUGOO needs to have returned, warranties on those replacements are voided if the wrong item is returned to KUGOO or if the defective item is not returned. 
● You must include your defective Product within the original packaging or dealers' approved packaging.
● Kugoo offers self repair warranty which means if theres a problem we will send the new part with simple instructions on how to fix it. We can provide further instructions if theres a problem.
Valid proof of purchase: 
● Order number from online purchases made through KUGOO or KUGOO's authorized resellers.
● Purchase receipt, your Limited Warranty, and eligible warranty claims.
● Dated sales receipt from an authorized KUGOO reseller that shows a description of the product along with its price.
Please note that more than one type of proof of purchase may be required to process a warranty claim (such as receipt of money transfer and confirmation of address item was originally shipped to). Warranty claims for product defects expire their original warranty timeframe after opening a warranty claim. It is not possible to process a warranty claim for items that have expired their original warranty timeframe warranty claim request period, whichever is longer. 
THE WARRANTY SHALL BE VOID AND ALL RIGHTS FROM IT SHALL BE LOST IN THE FOLLOWING SITUATIONS:
●The product hasn't been commercialized by KUGOO or any of its authorized dealers. 
●The product was modified or repaired by unauthorized technicians or/and by using faulty, modified, or unoriginal equipment / accessories. 
●The product has suffered accidents or damages caused by external factors, atmospheric conditions or any other such events. 
●The faults are caused by dirt, impurities, water, foreign bodies, etc., where applicable. 
●The product was used in the rain and/or driven through a body of water with a depth bigger than 4 cm. 
●Product or parts identification series / codes / marks etc. that are deleted / illegible, marking or embossment crafted, made for various purposes Spare parts or original pars show dents, mechanical shock, thermal or other fractures, cracks, etc. not attributable to them. 
●Damage and defects due to improper handling and transport made by the buyer. 
●Changes to the original condition of the product by natural influences (corrosion, condensation, etc.) due to improper storage conditions. 
●The product has not been used according to the conditions of the user manual. – link Product's faults are caused by vandalism or similar causes. 
●The warranty duration has expired.
Support: 
For technical support please contact KUGOO directly at support@kugoo.eu. 
Click here to Download KUGOO After-sales Policy